Safari Park
"Justin" Time at the Park
"Cute" and "curious" are just two of the adjectives being used to describe Justin, the four-week-old southern white rhino calf at the Safari Park. The bouncing baby boy is spending his time trotting around his habitat, napping, and even getting to know his Cape buffalo exhibit mate—all under the watchful eye of Kacy, his no-nonsense mom! Full of personality, Justin weighed an estimated 125 pounds at birth, and he is growing by leaps and bounds. He's still relatively small compared to his adult size, which could top 4,000 pounds. Justin can be seen from the Africa Tram ride in the Park's 60-acre East African Plains enclosure.

San Diego Zoo
Gourd Carving at Global Goods at the Zoo
Renowned artisan Pablo Teodoro Hurtado Laveriano will be demonstrating his gourd-carving talents, March 14 through April 15, at the Zoo's Global Goods store. This intricate skill involves etching fine lines into the gourd with a scalpel called a buril, creating a series of carvings that generally represent active scenes of farming life. In Pablo's hands, a gourd might become a birdhouse, a box, a bowl, or even a basket. Come see him in action!

SHOPZOO
Tony the Hippo Toddler Hoodie
Created to celebrate the birth of Tony, our latest baby hippo, this toddler hoodie will make a splash with little ones. Taking the cue from his mother Funani, the hip hippo calf adorns this aqua-colored hoodie and reminds everyone to "just keep swimming."

San Diego Zoo Kids
On the Spot with Jaguars
Jaguars are really cool cats—find out why, and how different they can look!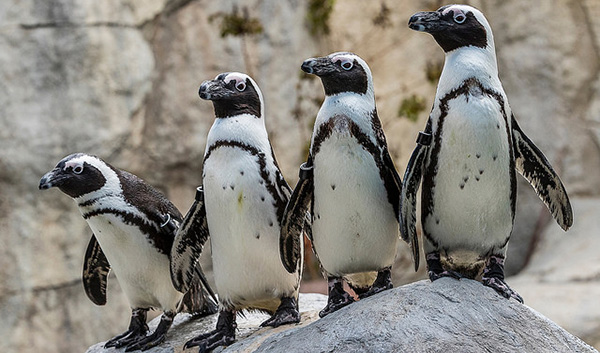 San Diego Zoo & Safari Park
Member Specials
Gain insider access to all the San Diego Zoo and Safari Park have to offer! Treat yourself to free admission year round, plus shopping and dining discounts, invitations to member-only events, and more!


Upcoming Events
San Diego Zoo

Yaycation


presented by National University

March 24–April 8

Join us for fun under the sun with special animal experiences, activities, live music, and more. Shake off the winter blues and plan your Yaycation with us!

Safari Park

Butterfly
Jungle


presented by San Diego METRO Credit Union

March 10–April 15

Thousands of colorful winged wonders will return this spring to the Safari Park for five weeks of fluttery enjoyment.

San Diego Zoo
| | |
| --- | --- |
| Breakfast at Penguins | March 23 and April 28 |
| | |
| --- | --- |
| Easter Brunch at the Zoo | April 1 |
Safari Park
| | |
| --- | --- |
| Butterfly Jungle Breakfast | March 18 |
| | |
| --- | --- |
| Spring Brew Festival | March 18 |
| | |
| --- | --- |
| Breakfast with Elephants | April 28 |
| | |
| --- | --- |
| Safari Park Tequila Dinner | May 5 |

Thank You to Our Partners in
Conservation
Taste the Feeling

Coca-Cola is proud to be the official beverage sponsor of the San Diego Zoo and Safari Park.

Hello Panda

You could win a trip to the San Diego Zoo for a behind-the-scenes panda experience! Look for specially marked packages of Hello Panda Snacks for your code to enter.

Express Yourself and #SockExtinction

Buy socks that help save the lives of endangered species. When you do, you support the San Diego Zoo Global Wildlife Conservancy. Together let's "Sock" Extinction.

The Onesie You Love!

One of our newest partners, Emolly Fashion creates fun animal-themed onesies for adults, teens, and kids! Emolly proudly supports San Diego Zoo Global's Wildlife Conservancy programs.

Visit Us


Open every day of the year, including all holidays.
General Information: 619-231-1515
Membership Inquiries: 619-231-0251