Check out the latest and greatest news, reviews, projects and more, hot off the press from All3DP.
Here are the top 3D printing headlines this week.
October 08, 2018 by Ricardo Pires

Ever gone mad over an STL file that was crazily processed by your slicing program? Do we have good news for you. Read on to find out more on the relatively new 3MF file format.
October 08, 2018 by Hanna Watkin

Mini has launched a car which pays homage to its rare original MINI 1275 GT. The new Cooper S GT Edition is limited edition, makes use of 3D printing, and only 150 units are available in France.
October 07, 2018 by Tyler Koslow

The Cubiio Laser Engraver is an incredibly compact and affordable laser engraver that has hit the market after raising over $1.3 million in a Kickstarter campaign. Review the features and specs here.
October 07, 2018 by Tyler Koslow

Want to make your Halloween decorations more cheerful this year? This 3D printed Tea Light Ghost will make a happy addition to your seasonal adornments, greeting all of the trick-or-treaters with a smile.
October 06, 2018 by Tyler Koslow

Need to prepare decorations for Halloween? We've got you covered with this spooky 3D printed Pumpkin Spider Transformer designed by William Bruning.
October 06, 2018 by Tyler Koslow

The Creality Ender 3 is an impressive budget 3D printer. Check out the 30 best Creality Ender 3 upgrades and mods to improve this great 3D printer even further.
October 05, 2018 by Anatol Admin

Portable, extremely thin, iPad-friendly: Three years in the making, the LumiFold TB is the latest approach in low-cost resin 3D printing.
October 05, 2018 by Josh Snider

Desktop Metal is disrupting the metal 3D printing industry in price, scale, and accessibility. Here we review the specs of their office-friendly Studio System.
October 05, 2018 by Leo Gregurić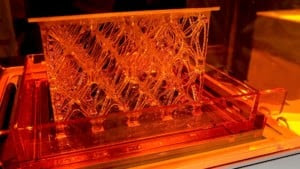 If you've ever wondered what a UV resin 3D printer is and how it works, you've come to the right place. We'll explain resin 3D printing and then go into more detail about specific types of resin 3D printers.
October 05, 2018 by Sarah Goehrke

Want to know what's happening in the Additive Manufacturing and 3D printing industry? Here's All3DP's weekly report for professionals, presented by industry expert Sarah Goehrke.
October 04, 2018 by Hanna Watkin

The U.S. Navy and Lockheed Martin are working together to explore how artificial intelligence can be integrated into 3D printing robots in order to optimize the production of 3D printed parts.
October 04, 2018 by Tyler Koslow

Researchers from Purdue University have developed a technique that helps 3D printed cement paste become stronger under pressure, making it comparable to high-strength natural materials like the shells of arthropods.
October 04, 2018 by Bulent Yusuf

Bored of pointless 3D printer projects? Out of 3D printing ideas? Check out our September 2018 list of cool things to 3D print which are actually useful.
October 04, 2018 by Tyler Koslow

The Silicon Valley 3D printing startup Carbon is welcoming a number of new partners into its growing Carbon Production Network, expanding the reach of its groundbreaking Digital Light Synthesis technology into injection molding and urethane casting.