Issue 50 | June 2017

Dear colleague,

Future Rail is free for the iPad. Download our app to read the latest issue, or any issue from our archive. You can also continue to read your free copy in our web viewer*.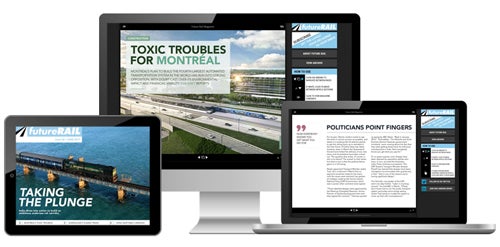 An ambitious $14.5bn undersea rail corridor between Mumbai and Ahmadabad in western India is to start construction in 2018, with a helping-hand loan from Japan. With hopes to replicate the famous Shinkansen technology, we analyse the project's prospects.

Also, we look into Montreal's rapid transit project which proposes to build across one of the worst toxic waste sites in Québec, ask what went wrong with Queensland's new rolling stock, hear about a passenger-freight adaptive carriage concept, and examine the effect of localised energy resources on the decline of rail freight.

Plus, we report on claims of noise pollution caused by London's Night Tubes, learn about a rail mobile app that tracks trains' precise locations and movements in real-time, and get insight into the switch to predictive maintenance.
---
Net Resources International, a trading division of Kable Intelligence Limited | Registered Office: John Carpenter House, John Carpenter Street, London, EC4Y 0AN, UK | Registered in England No. 03171601.